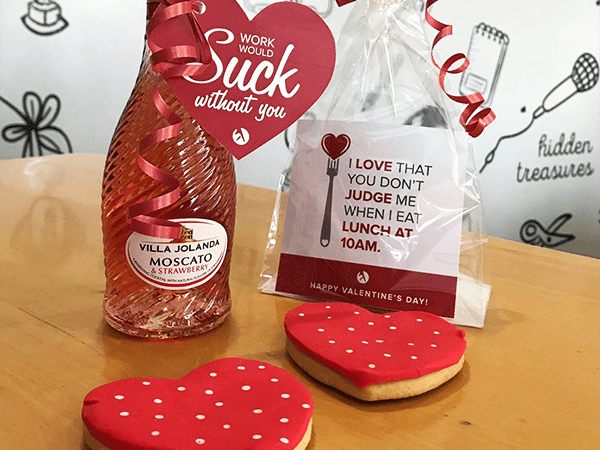 10/08/2018 by Yellow, Discover Local 0 Comments
Spreading the love
Single or in a relationship, everyone deserves some love
- February 2018
14th February is typically the day of huge flower bouquets, chocolates, soft toys and full blown romance. At Yellow, we do admit it… we are struck by this lightning of love every year!

Whether or not you already found your better half, here at Yellow we make it a point to celebrate love with a particular way on this romantic day. We love LOVE so it's our tradition that on Valentine's Day all our staff feels extra loved and appreciated with simple and small Valentine gifts.

This year, for the staff that is in a relationship we gave them some mouthwatering locally baked biscuits with a lovely note to share with their valentine once at home. For the single ones we wrapped some good bottles of sparkling wine to open up when in the good company of perhaps a prospective valentine?!

In an event like Valentine's Day it is always good to share some love between us all colleagues at Yellow. In this big Yellow family we are linked by friendship and kindness so such an event helps us also to celebrate a kind of genuine love and caring between us.
Feed